Wall Insulation Contractors Near Poughkeepsie, Albany, Rye
Improve your home's energy efficiency with wall insulation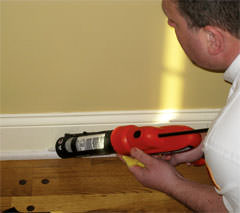 Are some rooms in your home uncomfortable no matter what temperature you dial in on the thermostat? Or are other home remedies not resolving your elevating energy bills? Consider yourself saved!
Expediant Environmental Solutions, LLC is your local home insulation contractor. Contact us today for a free home insulation estimate and one of our energy specialists will inspect your home and let you know what's causing the discomfort and inflated energy bills.
Knowing that most New York homes were built half a century ago, you may want to consider upgrading your wall insulation. This is especially true because the majority of homeowners spend most of their time within their finished living space with their loved ones. Don't let old, dirty and inefficient insulation constrain your home comfort. Expediant Environmental Solutions, LLC is here for you!
Benefits of installing wall insulation in your home:
Increase the value of your home
Trim down your monthly utility bills
Revamp the comfort of your New York home
Improve efficiency of your energy systems
Simple and fast installation
A home energy assessment done by our company, Expediant Environmental Solutions, LLC, lets us thoroughly inspect and assess your wall insulation. We will then be able to tell you how much insulation is needed, what type, and where it needs to go in your specific home. If wall insulation is missing or inadequate within your home, we provide several options available to remedy this problem.
Upgraded Wall Insulation Improves Home Energy Efficiency
Expediant Environmental Solutions, LLC will examine wall insulation levels throughout your home and distinguish the most cost-effective improvements for your property. Our wall insulation upgrades will improve the home comfort for you and your loved ones to enjoy.
Contact Us For A FREE Insulation Estimate
A Job For Professionals. Before drywall or other finished wall material is installed, walls are easy to insulate. The job soon becomes difficult to install insulation once the walls are finished. One technique for insulating finished walls involves drilling precise access holes near the top of the wall, and blowing cellulose insulation into empty stud cavities.
Air-sealing Priorities. Before you install any type of insulation, we highly advocate air-sealing leaks wherever possible. Air sealing is an affordable home energy improvement that permanently seals leaks where your costly conditioned air escapes. If you can feel cold air coming into the house around electrical outlets and window trim on a cold winter day, your walls probably need to be air-sealed. This energy upgrade seals the many cracks, gaps and holes where air leakage occurs and then the insulation is installed.
Don't Neglect Windows and Doors. Windows and doors are basically giant holes in your home's "building envelope", so it's important that the units installed are up-to-date to maintain high energy performance. Modern, high-quality windows have features like low-e coatings and thermal breaks which make them more energy efficient than older windows. The same is true for exterior doors that have qualified for a ENERGY STAR® rating and come equipped with insulated cores and weather-stripping.
Improve Home Comfort and Efficiency With A Wall Insulation Upgrade.
Find out if improved wall insulation is needed in your New York home. Call 1-844-800-5044, or contact us online to schedule a free wall inspection and insulation estimate in Poughkeepsie, Millbrook, Verbank and more!
Looking for a price? Get a no cost, no obligation free estimate.