Radiant Barrier Insulation Upgrades Near Poughkeepsie, Albany, Rye
Reduce Your Dependency On Heating and Cooling Systems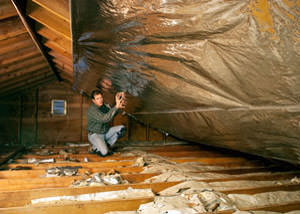 A radiant barrier can cut your seasonal heating and cooling expenses by 10% or more.
Expediant Environmental Solutions, LLC is your local home energy contractor offering professional radiant barrier installations in attics in your town. As energy experts, our primary focus is to improve and restore home comfort levels. Our radiant barriers will reduce summer heat gain and winter heat loss; which overall reduces your total heating and cooling costs.
Benefits of installing a radiant barrier:
Improved utility bills - less dependency on your heating and cooling systems
Keeps conditioned air cooler in the summer and warmer in the winter
Quick installation - can be installed within a day
Maintenance free home energy improvement
Can be installed over existing insulation - negating removal costs
Installing a radiant barrier in your attic space is a smart energy-saving investment because it significantly reflects heat away from your home, reducing the transfer of radiant heat from the roof into the attic space. Radiant barrier and insulation in attics is a key part of our comprehensive home energy audit where we completely diagnose the 10 Energy Vital signs of your home (potential energy saving areas).
Stop letting the sun attack the outer shell of your home, have one of our energy experts install a reflective radiant barrier to reduce the transfer of heat into your home. For your Free Radiant Barrier Estimate in New York, contact us today by phone, 1-844-800-5044 or simply visit us online! We serve Poughkeepsie, Millbrook and surrounding New York areas near Dover Plains.
Radiant Barriers for Automobiles and Attics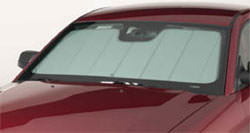 Have you ever gotten into your car after it's been sitting in the rays of the summer sun for a period of time? If you have, you know first-hand just how hot and uncomfortable the car can get. Those dark leather seats will cook and can literally make you jump when you try to sit down. Additionally, your car's air conditioning may take quite a while to make the interior comfortable again.
How does your car's interior get hotter than the outside air temperature? Because of the sun's radiant energy - solar heat beams onto your car's outer surface where heat transfers and builds up inside of your car.
Similar to your car cooking in the summer sun, the air in your attic can superheat just like your car. Temperatures can shoot up to scorching hot temperatures such as 120, 130, 140 degrees or higher. This forces your cooling system to work harder than ever because the transfer of the radiant heat into your home makes it difficult to reach the desired room temperature. Your utility bills will heavily rise because of this increased air conditioning usage. On top of all that, the comfort of your home suffers.
Radiant Barriers Liken to Insulation
A radiant barrier is sometimes known as "reflective insulation" or "radiant barrier insulation." Like insulation, radiant barriers can effectively slow the transfer of radiant heat, making them especially effective in attic spaces. Good insulating materials like foam and cellulose force heat to move slowly.
However, a radiant barrier works differently, actually reflecting heat energy back towards its source. For the best insulating value, some types of rigid foam insulation are manufactured with a shiny reflective foil facing that can act as a radiant barrier as well as an insulator. In fact, we offer our own SilverGlo™ insulation that is just that!
Stay Cool in Your New York Home
To help reduce the high levels of heat a car absorbs from the sun, many drivers will leave a foil-faced sun shade on their windshield to make the seating and interior temperature more complacent. These foil faced sun-shade barriers do an excellent job of reflecting the solar heat, protecting the interior of your car from those boiling temperatures.
Similar to the way the foil shades in an automobile, radiant barriers reflect the high heat from your attic. When it's hot, up to 97% of the sun's heat can be reflected back outside by a radiant barrier! In the summer, these radiant barriers will reduce the transfer of heat gain to your house and take a load off of your air conditioning unit. In the wintertime, the reflective radiant barriers work oppositely, reflecting heat within the house back toward your living space.
Radiant Barriers In Attics Are Cost Effective
Advice From Expediant Environmental Solutions, LLC
Expect the highest savings in warmer climates, where the workload on your AC is considerably higher than mild climates. If ductwork is present in the attic space, radiant barriers will prevent the ducts from warming affecting the impact of the conditioned cold air your home receives.
Upgrading your insulation with a radiant barrier in your attic is a cost effective and energy saving investment. The savings go "through the roof" if you have ductwork and other HVAC utilities running throughout the space, such as air ducts, furnaces, and/or air conditioners.
Expediant Environmental Solutions, LLC is the Poughkeepsie Area's professional home insulation company offering radiant barrier insulation upgrades to home's in need. We are the trusted energy experts that can properly install a radiant barrier in your attic against the bottom edges of your rafters to improve cooling efficiency in the summer and heating efficiency in the winter.
For a Free Radiant Barrier Estimate in Poughkeepsie, Wappingers Falls, Verbank, and other nearby cities- contact us today!
Looking for a price? Get a no cost, no obligation free estimate.