Ductwork Sealing Company Near Rye, Poughkeepsie, Albany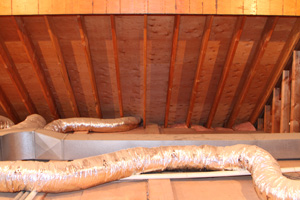 Clean and efficient ducts. Keep your ducts working properly with professional inspection and maintenance.
Expediant Environmental Solutions, LLC will inspect your ductwork as part of our Free Ductwork Estimates. We help homeowners maximize energy efficiency throughout the Poughkeepsie area by sealing air ducts. This is part of our energy saving program designed to save you up to 40% on your home's costly heating and cooling bills.
Our service area includes: Millbrook, Dover Plains, and all surrounding areas.
Common Air Duct Systems in New York
Forced-air heating and central air conditioning work through two types of duct systems- supply ducts and return ducts. These ducts continually cycle air throughout your home until your thermostat tells the furnace or AC that the right temperature has been achieved.
Supply ducts are designed to blow conditioned air to your various rooms, while return ducts send air back to the furnace or air conditioning unit so it can be heated or cooled. If these ducts are not properly maintained, they could collect dust or mildew and jeopardize the health of your home and family.
The Cause and Effect of Properly Sealed Ductwork
Ducts and ductwork are frequently neglected during home energy assessments and check-ups- but not ours! We make sure to evaluate your entire home!
Since it is frequently overlooked, it's important your ductwork is installed properly along with the appropriately sized unit. These simple things can dramatically effect how your heating and cooling systems operate, which can affect the following:
Indoor Air Quality: If air ducts are prominent in your home, the air you are breathing could be from your crawl space. This "bad air" from the crawl space can be sent right into your living space from leaky ducts. These leaky ducts may also create "pressure imbalances" that keep some rooms under positive pressure and other in a slight vacuum. Because of these pressure imbalances, unhealthy air laden with dirt, pollen, dust, allergens, and other contaminants can significantly effect your indoor air quality.
Comfort: When your air ducts leak, they release your conditioned air to unwanted areas of your home, such as your attic or basement. Consequently, the air that doesn't reach your living area causes your home to reach a fraction of the ideal comfort level.
Safety: If your ductwork is overlooked, you could be at risk of exposure to carbon monoxide. Pressure imbalances caused by leaky ducts can lead to back drafting in combustion appliances such as wood stoves, furnaces, and gas ranges.
Energy Efficiency: Leaky air ducts within the attic and basement spaces can create a recipe for an energy disaster. It will take more energy from your heating & cooling systems and more money to condition your home to reach the desired room temperatures.
Your Local Energy Saving Contractors in Poughkeepsie and Millbrook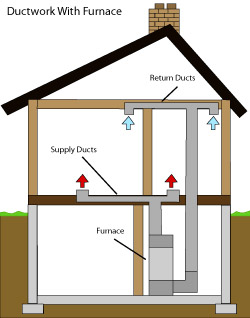 Our company, Expediant Environmental Solutions, LLC strongly advises an inspection of the make-up and assembly of your ductwork. Considering up to 40% of your energy consumption could be wasted by leaky ducts - your heating and cooling systems could be running more efficiently.
Contact us today for a Free Estimate on ductwork inspections and sealing. If you live in Poughkeepsie or Millbrook and you would like to improve the comfort of your home, one of our energy specialists will thoroughly inspect and assess your home to accurately pinpoint the specific problems.
Start Living More Comfortably With A Heating and Cooling Upgrade.

Expediant Environmental Solutions, LLC helps homeowners save energy and reduce their carbon footprint! We service New York home's within the Poughkeepsie and Millbrook area including: Amenia, Pawling, Pine Plains and more. Contact us by telephone at 1-844-800-5044 or visit us online to set up a free home inspection on your air ducts!
Looking for a price? Get a no cost, no obligation free estimate.