Expert Attic Insulation Contractor
Near Albany, Rye, Poughkeepsie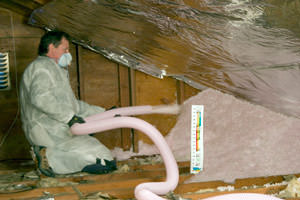 A blanket for your attic. Blow-in (or blown) fiberglass insulation is installed with a long, flexible hose connected to a machine that shreds and blows the material through an application hose.
With rising fuel costs and an ever increasing concern about the environmental damage caused by fossil fuel consumption; more homeowners are upgrading their attic insulation everyday. As a result of losing most of your conditioned air to the attic space, it's logical to consider upgrading your attic insulation.
Expediant Environmental Solutions, LLC offers free attic insulation estimates and inspections. One of our trained and certified energy technicians will identify how much is needed and what type of insulation is best for your attic space.
Advantages of upgrading your attic insulation:
Add value to your home with an upgraded attic space
Live more comfortably with a better insulated attic
Reduce your overall fuel and energy consumption
Improve attic space for storage and functionality
The attic of any home in the Poughkeepsie area is certain to be a major beneficiary in terms of energy-saving improvements. Considering almost half of your total energy usage is attributed to heating and cooling, the attic plays a huge role in your heating and cooling efficiency. Some common causes to high heating and cooling bills are ceiling gaps and cracks, non-insulated air ducts, leaky ducts, unsealed electrical fixtures and hatches.
What is the stack effect? The stack effect is a principle of building science, which focuses on how heat, air and moisture flow through a building. Convection causes the warmest air in your house to rise. Since it's lighter than the surrounding air, it wants to keep rising, which is why air leaks outside through the attic more than anywhere else within the home. As air leaks out the top of the house, an equal amount of exterior air replaces that lost air through openings below the home.
Don't let your energy bills bog you down, contact Expediant Environmental Solutions, LLC, your local energy saving contractors in New York. Our service area is focused around the Poughkeepsie area, including: Wappingers Falls, Millbrook, and the surrounding areas.
Reduce Your Heating & Cooling Costs Up To 20% With Upgraded Insulation
Our company offersinsulation services to improve overall home comfort and energy efficiency. Contact us today for a free attic insulation estimate in your home, our certified energy contractors will diagnose what type of insulation in necessary for your household.
Contact Us For A FREE Insulation Estimate
Importance of Air Sealing and Insulating Attics
Larry Janesky explains that insulation is also needed in warmer areas. Insulation prevents heat transfer. It prevents hot air from being transferred to the outside in the wintertime, and prevents the attic's scorching heat from being transferred into the living areas of your home during the summer.
The Proper Way to Install Attic Insulation For the Greatest Benefits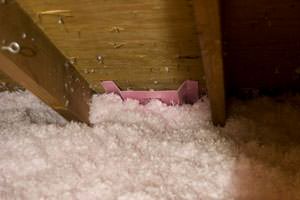 Ventilation is key. In this picture a pink elastic baffle prevents attic insulation from blocking ventilation from the soffit vents installed along the eaves.
Air sealing the attic is a critical step for home energy savings because it prevents the conditioned air in your living space from escaping into your attic. To properly air seal your attic, our energy technicians need to move aside existing attic insulation and expose all the wall framing, can lights, soffits, vent fans and other details; sealing all the holes, gaps and cracks they can find. We also seal around the attic hatchway, around chimneys and chases for ducts, plumbing and wiring. 
Baffles and barriers keep attic insulation in place. Insulation baffles or barriers are designed for installation between rafters to keep ventilation channels open. Installing baffles before adding more attic insulation helps avoid damage from ice dams and excess moisture.
Recycled insulation? Completely up to the homeowner, non-damaged insulation can be put back into place as long as the insulation is not wet, moldy or overly compressed. Once the attic space has been properly air sealed and before new insulation is installed - the old functioning insulation can be put back into place.
Upgrade Your Attic Insulation For Maximum Energy Savings
Call 1-844-800-5044 or contact us online to schedule a free home insulation estimate in Poughkeepsie, Millbrook, and all the surrounding areas.
Looking for a price? Get a no cost, no obligation free estimate.