Expert Blown-in Insulation Near Albany, Poughkeepsie, Rye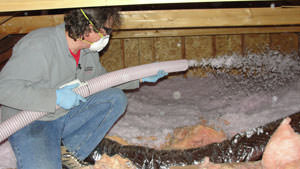 Expediant Environmental Solutions, LLC installs blown-in insulation to home's within and surrounding "The Queen City of the Hudson". Blown-in insulation is an excellent alternative to traditional batt and roll fiberglass insulation and is also highly effective for hard to reach attic areas.
Save more on your monthly utility bills by upgrading your insulation to blown-in insulation, a tighter fit insulation that keeps the heat in during the winter and heat out during the summer. Contact us today for a free blown-in insulation estimate for your home. We are your certified energy contractor to thoroughly inspect your home and recommend the necessary upgrades for your building.
Benefits of upgrading your insulation with blown-in insulation:
Tighter fit than traditional insulation materials - reducing air flow
Reduces moisture content
Increases energy efficiency
Recycled materials - conserves home energy and reduces use of non-renewable resources
Blown-in insulation, also known as blown insulation, is especially popular for upgrading attic insulation levels. It's faster than rolling out fiberglass batt insulation and the resulting blanket of additional insulation usually provides more thorough and more uniform coverage that installers can't achieve with fiberglass batts. A typical home is likely to have less than R-20 attic insulation. But throughout most northern states, the DOE (Department of Energy) recommends that attics be insulated to R-49 or more.
Stop letting your conditioned air escape your home, contact us today to schedule a Free Estimate for blown insulation in your home. Blown-in insulation is a great option when insulating an attic, offering your home a tighter, more effective solution compared to other traditional insulation methods. We offer our services to the greater Poughkeepsie area homeowners throughout Pawling, Millbrook, Pine Plains, Hopewell Junction, and nearby cities!
Blown-in Insulation - The Economical Choice
The common culprits of large home energy losses are a combination of air leaks and incorrect insulation levels. That's why our company strongly recommends that air-sealing improvements be accompanied with insulation upgrades. When air sealing in the attic is combined with an attic insulation upgrade, it's possible to reduce your heating and cooling costs by as much as 40%.
Blown-in insulation is super-effective for unfinished attic spaces, and you'll be surprised at how affordable it is to seal air leaks between your living space and the attic. Blown-in insulation offers a tightly fitting insulation that can get into those hard-to-reach areas of the attic, while also offering improved comfort and energy savings.
Fiberglass and cellulose are blown insulation materials
Blown-in insulation such as fiberglass and cellulose are both "fluffy" insulation materials with similar heat resistance (R-values). The installation method for blown fiberglass and blown cellulose is identical, utilizing a special machine that shreds and blows the insulation. We place the machine outside the house where the insulation is forced through a long, flexible hose that extends into the attic space.
If you haven't yet made this energy-saving investment, it's definitely worth doing. Once it's complete, there's no maintenance to worry about. An insulation upgrade is a lifetime home improvement you'll enjoy for as long as you own your house and improves the value of your home.
Contact Expediant Environmental Solutions, LLC For A Blown-In Insulation Upgrade
Need attic insulation or an attic insulation upgrade? We offer Free Estimates for attic insulation and the use of blown insulation in Poughkeepsie, Hyde Park, and nearby cities.
Looking for a price? Get a no cost, no obligation free estimate.