Air Sealing Leaks Near Rye, Poughkeepsie, Albany
We seal costly air leaks to improve home energy efficiency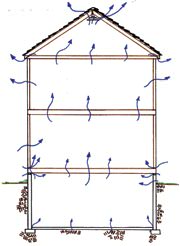 Do you feel that your home is not as comfortable as it should be? Or are your monthly utility bills progressively rising on each statement? If so, look no further for an air sealing contractor, Expediant Environmental Solutions, LLC is your local energy saving company. We provide professional services to identify and seal costly leaks giving homeowners recurring headaches.
Contact us today for a free air sealing estimate in your home. One of our certified energy experts will thoroughly inspect your home to locate and seal the most cost-effective leaks that exist within your home's building envelope.
The benefits of air-sealing your New York home:
Improved overall home comfort
Enhanced home energy systems
Improved indoor air quality
Reduced utility bills
Sturdier, longer lasting home - reducing moisture problems
Have you ever left a window open on a blustery winter's day or a scorching hot summer's day? Probably not, because that would dramatically nullify your home's heating and cooling ability. Not only are you diminishing home comfort, you're also wasting excessive amounts of money to needlessly operate your furnace and air-conditioning units. Many homeowners don't realize it's not uncommon for homes to have air leaks equivalent to an open window's worth of air leakage!
Don't let your Poughkeepsie home have an open window of air leakage everyday, contact us today for a free air sealing estimate. Expediant Environmental Solutions, LLC is your local energy saving company, we provide quality, proven energy solutions to help homeowners live more comfortably and efficiently.
We offer Free Estimates to homeowners in the Poughkeepsie area, including: Amenia, Wappingers Falls, and all nearby areas.
Professional Air Sealing Contractors in Millbrook and Pine Plains
Whether you live right next to the Hudson river in New York or you live more inland in Poughkeepsie, heat can and will find its way through a wide assortment of gaps, cracks, and holes within your home. With our professional home energy audit, we utilize professional equipment such as a blower door test to quantify how much air is leaking out of your house and identify the locations of the largest gaps and cracks. Expediant Environmental Solutions, LLC is your local energy saving company, offering professional air sealing techniques and solutions to permanently seal air leaks in your New York home property.
Contact us today to have a home energy audit in the Poughkeepsie area. We are proud to offer our air sealing services to homeowners in: Red Hook, Rhinebeck, and nearby!
The Stack Effect Replaces Good Air With Bad Air
What is the "Stack Effect"? Convection causes the warmest air (also the lightest air) in your home to rise, which is why the greatest amount of air leakage is into the attic-- through dozens and dozens of cracks and openings. With air leaking out the top of the house, an equal amount of air is going to come in through openings near the foundation of the home. Interior air leaks out the top, causing exterior air to enter at the bottom of the home. This process is otherwise known as the stack effect.
Leaks Cost You Money - If and when your home leaks air, you're losing air that you just paid to heat, cool, and/or dehumidify, replacing it with outside air that also needs to be heated and cooled. Air leaks, whether small or large, waste energy and make it more costly to keep your house comfortable everyday.
Air Sealing Your Home for Energy Savings
High energy bills and ice dams are some of the problems caused by air leakage and poor insulation in this cape house. Watch this video to see how the right air sealing and insulation methods can make your home comfortable and efficient.
Advice From The Energy Experts
Dirt stains within your fiberglass information is a clear sign that your home is leaking air. These stains show that the existing insulation is actually filtering the air leakage, trapping both dirt and dust on its passageway. Contact us if you see dirt-stained insulation in your home, our energy experts will identify the location of the air leaks and repair those gaps and cracks.
Joints = Leaks - Your house is made from thousands of parts and pieces, from nails and 2x4s to window casing, electrical wire and drywall panels. Small gaps and cracks occur whenever one part of your home joins another.
Joints that are tight don't stay that way - Before a house is completely built, wood starts to shrink, materials expand and contract at different rates, and connections work loose. Many of these cracks and gaps become leakage points that need to be sealed in order to save energy.
Contractors Cause Air Leaks
When your house is constructed, air leaks are unintentionally built into the construction process of your home. As soon as the framing crew is finished nailing together all the joists, studs, rafters, beams and sheathing that make up the house shell, other workers come in to start cutting it apart.
Plumbers, electricians, and HVAC contractors use drills to create channels (holes) for their water lines, wires, and air ducts that need to be run throughout the home. Most of these resulting holes around the channels don't compromise the strength of your home but create hundreds of leakage points that can allow inside conditioned air out and exterior air to leak inside your home.

Gaps and cracks in your home can be as small as the ones found around an electrical outlet or as large as the ones in your floors created by plumbers for piping. Gaps can even be long created when a cantilever soffit does not meet the exterior wall in an airtight connection.
Air Sealing Priorities

As a result of homes being built with hundreds of leakage points throughout the building envelope, there are many vulnerable areas of your home where heat can leak into the attic and ultimately out of your house. If and when insulation is installed before air sealing first, air will leak through any crack or gap it finds and through the thermal resistance of the existing insulation. On top of all that, many air leaks within a home are buried underneath existing insulation, making them hard to find and reach.
Air sealing should always be applied first before installing any insulation. Expediant Environmental Solutions, LLC is your professional energy saving company offering both air sealing and insulation services.
Areas of the home that may have air leaks:
Hole and gaps around pipes and Wires
Attic access hatches, doors and drop-down stairs
Chimney penetrations
Heating and cooling duct chase
Between framing and drywall at the top of walls
Can lights in attic
Rim joists and sill plates

Sump pump holes
Basement windows
Trim around windows and doors
Under sinks- plumbing penetrations
Bath fans
And many, many other places!
Air Sealing Improves Home Comfort and Home Energy Efficiency
A Word From Expediant Environmental Solutions, LLC

We are here to help! Air sealing leaks in your home is a permanent, "once-and-done" home improvement. Once the process is complete there's no maintenance or reapplication process required.
The process of air sealing is a home improvement solution that seals air leaks appearing within a home's building envelope. When air sealing is applied to a home, it improves the comfort, the overall energy efficiency of the home, while reducing monthly utility bills.
The process of finding and sealing air leaks is much easier said than done. Expediant Environmental Solutions, LLC knows where to look for leaks, utilizing professional equipment such as an "infiltrometer" also known as a blower door fan. This fan is placed in the home's main entrance-way to depressurize the house or suck air from the interior. Meanwhile, one of our technicians will move room to room throughout the home to detect and diagnose existing air leaks.
Leaks be gone! Our company recommends utilizing a two-part foam for most air sealing tasks within the home. The two-part mixture leaves the nozzle of the gun in liquid form, rapidly expanding to fill and adhere inside cracks and openings. As the foam cures, it will create a lifetime barrier that is airtight.
The Reward to Air Sealing Your Home
You can reduce heating and cooling utility bills by 20% or more with a professional air sealing service done by us, Expediant Environmental Solutions, LLC. Most New York homeowners are excited to see how much energy and money they'll be saving now that they've sealed all their air leaks. With Expediant Environmental Solutions, LLC, you won't need to wait to see the difference in energy efficiency in your home--it'll be immediate.
Start Living More Comfortably With An Air Sealing Upgrade.
Call us by phone, 1-844-800-5044 or contact us online today to set-up a free air sealing estimate which includes a thorough inspection and consultation.
We are your responsible air sealing contractor in Poughkeepsie and Millbrook. Our service area includes: Wingdale, Pawling and cities nearby!
Looking for a price? Get a no cost, no obligation free estimate.