Mold Removal, Crawl Space Repair and Insulation Services in Connecticut, New York, New Jersey and Pennsylvania
Serving parts of New York, Connecticut, New Jersey, and Pennsylvania
Expediant Environmental Solutions, LLC can help you get rid of bacteria, rodents, pests, and mold without using dangerous chemicals. We use a process known as ThermaPureHeat -- the most innovative and environmentally-friendly pest control and mold remediation solution in the industry.
We offer a wide range of crawl space insulation solutions, including a durable vapor barrier system, energy-efficient dehumidifiers, duct cleaning, and winterization.

If you are experiencing comfort issues in your home, such as rooms that are too hot in the summer or too cold in the winter; or you have high fuel costs and energy bills, we can help. With proper insulation, you can enjoy a more comfortable home that costs less to own. We offer a comprehensive home energy audit to determine the best improvements for your home.
To request an on-site consultation and free estimate, call us at 1-845-229-1437 today!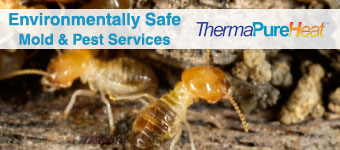 Customer Reviews
"Great service and the tech was a really nice guy. Overall I'd definitely..."

"Knowledgable and friendly tech who was very honest in telling me that my..."

"Mike was courteous honest and professional."

By Customer
Massapequa, NY

"Free evaluation, very professional, very knowledgeable, and reasonable."

By William S.
Kingston, NY

"I was very pleased with the service I received. Everyone showed interest..."

"Michael was very polite and professional even though we had no mold to..."
Preventative Service Plans - We can offer you a flexible service plan that meets your needs on either a monthly, bimonthly, or quarterly basis that can eliminate your general pests such as: spiders, pill bugs, crickets, millipedes, centipedes, carpenter ants, roaches, and termites.
It is vital to seek the services of a mold remediation professional! Expediant Environmental Solutions, LLC has the experience, equipment, staff and supports the use of EPA guidelines to serve you and treat your home – Guaranteed!
Expediant Environmental Solutions, LLC cares about the overall comfort and health of your home. Let us take care of all your needs -- from bed bug removal to proper insulation services. If you live in New Rochelle, Danbury, and Paterson or areas nearby, we can get you started with a free estimate or schedule a home energy audit for you today!
---
We control mold problems and musty odors to
ensure you're living healthy
A mature termite colony when only eating one structure can eat 40 feet of 2x4s.
Looking for a price? Get a no cost, no obligation free estimate.